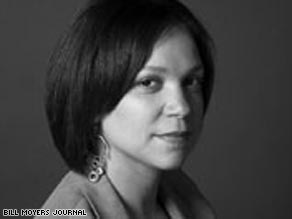 Melissa Harris-Lacewell says black politics has come of age, with blacks as equal partners in electing Obama.
PRINCETON, New Jersey (CNN) -- It seems Tavis Smiley has been irritated with Barack Obama for a long time. Smiley is perhaps the most recognizable African-American journalist in the country. He is a fixture on radio and television, and has authored several books that are best-sellers among black readers.
One might suspect that Smiley would be enthusiastic about the opportunities presented by America's election of a black president.
Instead, Smiley seems annoyed.
In February 2008, Smiley denounced then-candidate Obama for failing to make a personal appearance at Smiley's annual State of the Black Union. His continuing criticism of Sen. Obama during the fall campaign produced substantial outcry from listeners of the Tom Joyner Morning Show, a popular radio program where Smiley had been a well-liked regular.
After Obama's election, Smiley published a text titled "Accountable" and has repeatedly indicated his intention to hold President Obama "accountable" to an explicitly racial agenda.
The specific policies suggested by Smiley's books are not substantially different from those of the Obama administration, but Smiley insists on explicit and repeated acknowledgement of race, while Obama typically seeks to address inequality within a racially neutral frame.
Despite writing about race in both of his books, addressing race in the historic Philadelphia speech during the Democratic primary and repeatedly acknowledging that racial inequality endures, Smiley's critique implies that Obama's approach to race is both inadequate and inauthentic.