Zimbabwe President Robert Mugabe has condemned "bloody whites" for meddling in his country's affairs and attacked the West for trying to impose its rule on the southern African nation.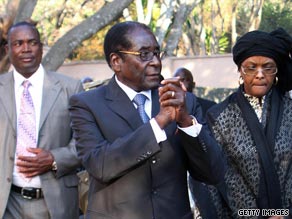 Zimbabwe President Robert Mugabe met with a delegation from the European Union.
Mugabe's comments on Friday came a day before he met a delegation of European Union representatives who are in the country to ease relations and push progress on Zimbabwe's political reforms.
Mugabe, 85, welcomed the delegation Saturday "with open arms," news outlets reported.
Addressing his ZANU-PF party's youth conference in the capital of Harare on Friday, Mugabe indicated a tougher stance.
"We have stood firm, and we have refused to let go," Mugabe said. "Sanctions or no sanctions, Zimbabwe remains ours."
The European Union imposed travel bans onMugabe and his representatives in 2002. The bans followed Mugabe's accusations of violations of human rights and rigging of an election.
Click to read.